About Doc Sanders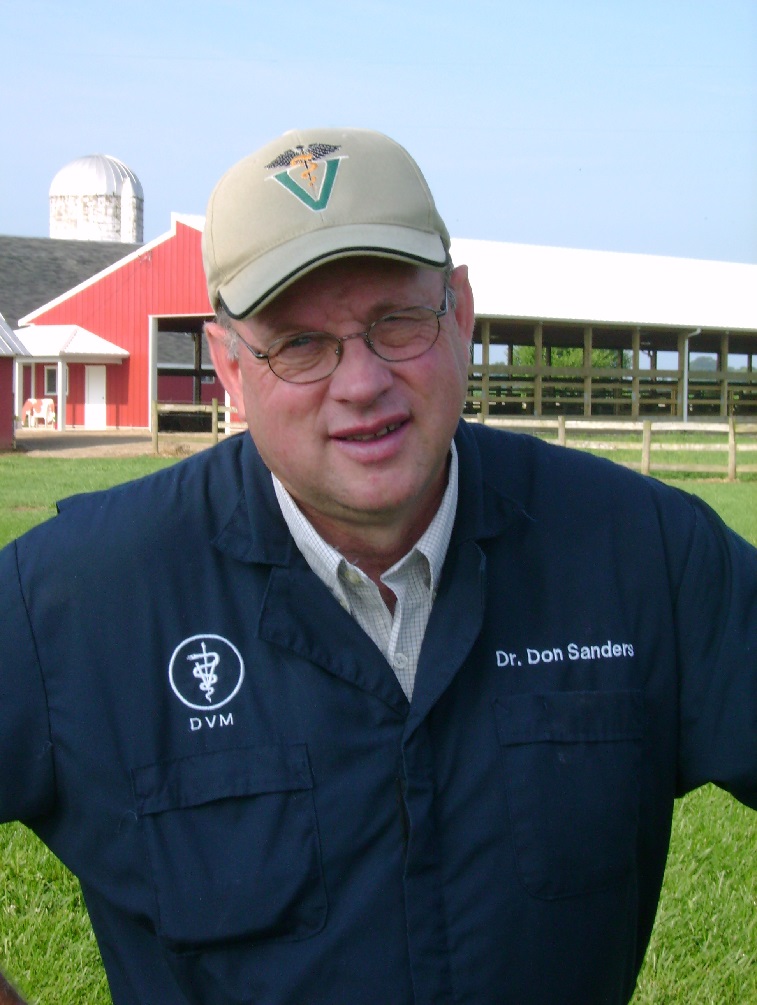 Dr. Don (Doc) Sanders DACT is a retired Associate Professor from The Ohio State University Large Animal Field Services in the College of Veterinary Medicine.  He is one of only 25 U.S. veterinarians to earn, while in practice, advanced board certification in theriogenologyTheriogenology is the veterinary study of animal reproduction., of which there are 400 actively working world­wide. He has served as president of the Society for Theriogenology, a 3,000 veterinarian member organization.  In 2013, he was named as one of the top 20 large animal veterinarians in the U.S.
Doc Sanders now travels the world as a dairy consultant to the World Bank and trains veterinarians in China, South Korea, Japan, Russia, Canada, Mexico, Colombia and Nicaragua.  He writes a monthly column for Ohio's Country Journal and My Rural Life and contributes to Progressive Dairyman.  He is also the co-host of Beyond the Barn, a local radio show aired on Ready FM 105.1.  
Doc Sanders is a member of the following Organizations:
American Veterinary Medical Association 84,000 members
American Association of Bovine Practitioners
American Association of Swine Veterinarians

Diplomate American College of Theriogenology

The American College of Theriogenology are those veterinarians who have completed a residency of three years or field experience under the supervision of a board-certified Theriogenologist (veterinarian). These board-certified Theriogenologists after three years of training have passed an intensive written examination, an oral examination and written a clinical paper on a Theriogenology theme. Board-certified veterinarians can be equated with someone who has gotten a veterinary PhD and are referred to as Diplomates of the American College of Theriogenology similar to a veterinarian board-certified surgeon being a Diplomate of the American College of Veterinary Surgeons.

Ohio Veterinary Medical Association

Society for Theriogenology

The Society for Theriogenology are veterinarians with a major interest in companion and large animal reproduction. Other than having a Doctor of Veterinary Medicine degree they do not have an advanced certification. This Society is not open to non-veterinarians.

American Dairy Science Association
National Milk Producers Federation
Council for Agriculture, Science and Technology (CAST)
Consulting Services
As a consultant, Doc Sanders brings a depth of experience and knowledge in food animal veterinary medicine and livestock management.  He has done total herd evaluation including production medicine consultation, reproduction, nutrition, toxicology, dairy facilities, stray voltage evaluation, animal welfare and mastitis consultation throughout the U.S.A., Puerto Rico, Mexico, Canada, Russia, China, Korea, Ukraine, Japan and Colombia, South America. This work is done for dairymen, other veterinarians, milking equipment manufacturers, milk producer cooperatives, export agents, insurance companies, public utilities, attorneys at trial and various feed manufacturers.  He has the ability to apply his vast knowledge with lots of persistence to solve problem animal and management issues.  He is also an expert in litigation (most veterinarians want nothing to do with this), so he can communicate and connect with decision makers when in litigation.
If you would like to contact Doc Sanders about a consultation; he can be reached by e-mail, or by calling his office during the business hours listed at the bottom of this page.